Saturday, July 15, 2006
Introduction:
Hi!! Nice to meet you all!!

On this Blog, I will keep updates available of what I'm up to with my online stores.

Find my stores, linked to from this site:
CATscratches.Net



What's available now?

I have an Ever-increasing number of T-shirt and Gift designs out there, On Cafe Press, and a few other sites!
These Items are great for Gifts and for Self Gifts, and I also will Personalize them upon request.
So, If you want tee's, Mugs, Tile Coasters, Small gift Boxes, Pins, and the like... Look no further than here!
I also make Logo's, Link images, and Miscellaneous graphics for those who can't afford to pay a ton.
These will mostly be on a 'Donation Requested' basis.



What to Expect?

CatScratches.Net will be home to Original Art, Sculptures, Jewelry, and Curiosities ...
All Handmade by me- CAT, and a friend or two.



About Us

I'm CAT. Cheryl Ann Taylor.
Currently unemployed first time mother.
I've always loved Art and Handicrafts, and soon will be offering some of my scratchings for sale here.

I hope you'll come back to see what pops up!
posted by Daedreem @ 7/15/2006 01:09:00 PM


Links to this post:
Custom-Made and Predesigned T-shirts for Gamers, Professionals, Activists, People with a sense of Humor, ... Just about everyone! Contact me for personalization!
About Me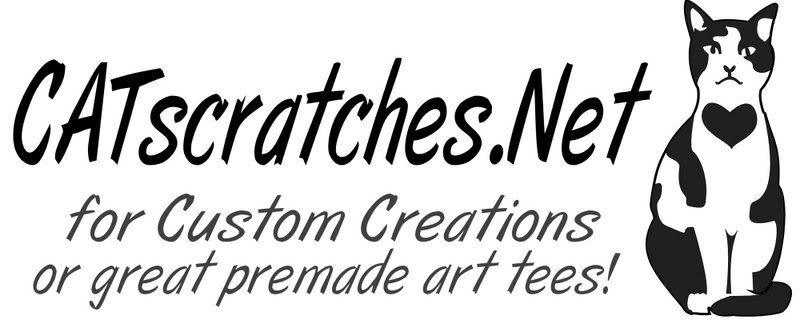 Name: Daedreem
Home: Texas, United States
About Me: When I was young I enjoyed games. But the only games I ever knew or played were the old standbys.. Monopoly, Scrabble, Candy Land when I was really little. Since I've grown up, and met into the Gamer World, I've seen so many others, Great games that really expanded my preconceived notions of what a great game could be... Now they are the second best thing in my life... after my GM.
See my complete profile
Previous Post
Archives
Shoutbox
Open your own Cafe Press Store!

Links
Powered by